| | |
| --- | --- |
| Country: | |
| Channel: | |
PayByPhone offers a progressive method of registration allowing you to pay for parking without creating an account! This progressive registration process is great for people that prefer one-off parking sessions.
As a Guest user, you may still park using PayByPhone but no official account will be created for you. You'll still enjoy the ease and convenience of using PayByPhone to pay for parking with some limitations.*
*not available for guest users:
Historical transactions/receipts. The system WILL generate a one-off guest receipt at the point of purchase. Receipts for guest transactions cannot be obtained at later date.
SMS notifications as there is no phone number associated with the guest account.
Account Settings: Vehicle Management edits; Payment cards edits.
Guest account transactions cannot be merged with existing registered accounts.
How to pay for parking via a Guest Account?
📋

NOTE:

Beware of duplications.
If you transact in guest mode, close the app, and then sign in to your account, you will not see the countdown clock from the guest session. Be careful: This doesn't mean the session didn't already start! We are cautioning customers to pay close attention to the transaction confirmation screen - and click refresh if they are uncertain.
Please check your email for a receipt of the payment. refresh the screen or contact customer service for help.
In the case of duplication, the refund policies will vary by vendor. Please review our support article for further information.

iOS & Android
| | | |
| --- | --- | --- |
| 1. Launch app, click Continue without an account | 2. Review Terms & Conditions, Privacy Policy and Cookie Policy. To proceed, click Agree & Continue. | 3. Input the location code. |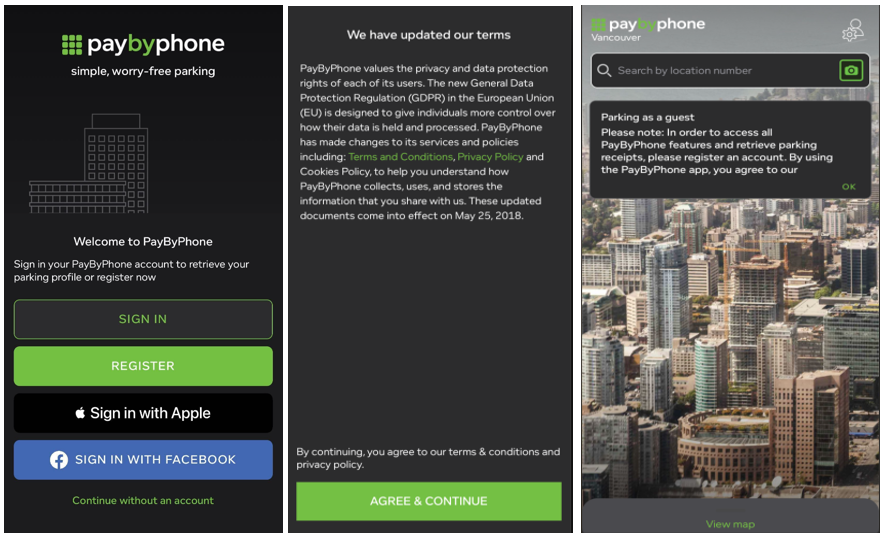 | | | | |
| --- | --- | --- | --- |
| 4. Add a vehicle. | 5. Input duration. | 6. Add Payment details. | 7. Input all mandatory fields and then click Add & Agree. |

| | | |
| --- | --- | --- |
| 8. Carefully review all of the transaction details. Edit if necessary. Click Pay & Park when ready. | 9. Wait for the final confirmation screen to appear. | 10. Convert the guest account into a registered account, or close the app. |


Web
Load www.paybyphone.com from your device.
Review policies, and Reject or accept.
Click Continue as Guest
Review the Guest account limitations.

Validate by using Re-Captcha. Click 'I'm not a robot'.

Then, 'Agree & Continue'.

Input location code.
Click in the Vehicle box. If location is pay by space, you will only need the spot number.

Input License Plate, Vehicle type and Province/State.

Click Confirm.

Input the duration of time, and if in Canada, you can choose the time you will be parking until.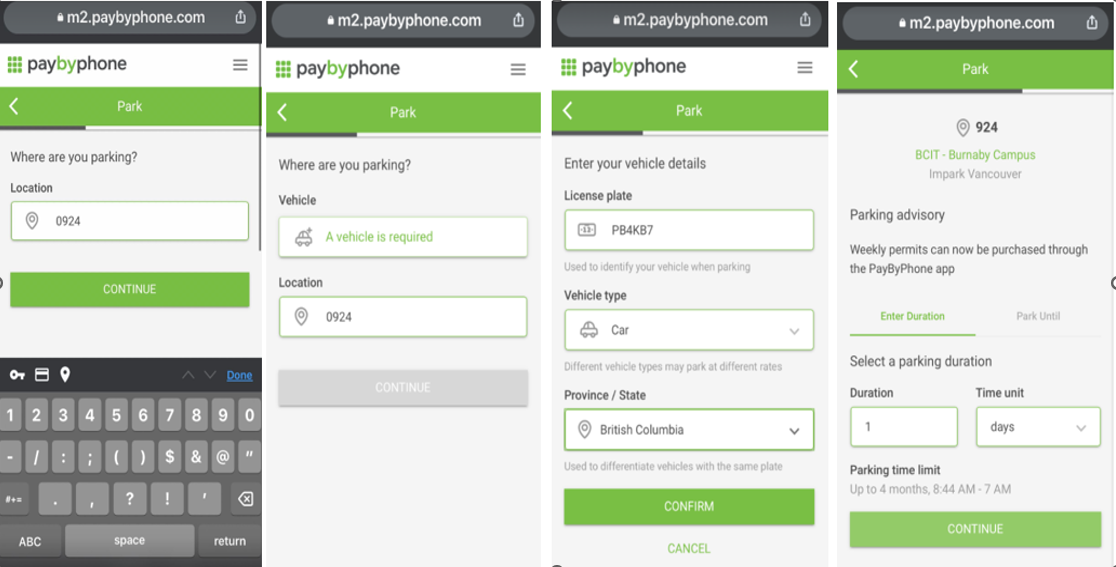 Add your payment details.

Review the transaction details and click the back button to edit location, plate, or payment details. OR

Click Pay and Park.

Wait for the 'Parking Confirmed' message to appear.
You will have the option to convert the guest entry into a registered account by adding a phone number and password.