If you have received a Parking Ticket/Penalty Charge Notice (PCN), please check your transaction to ensure that the location, plate/vehicle registration number and time correspond with the information listed on the notice. Should you need to access your parking transaction history, please log in to your account. For more information on how to do this click here.
If you log in to your account and do not see a transaction, it is possible that the transaction was not processed correctly. If you created a session using our website or app you should have seen a message stating Your parking has been started. If you parked by calling the automated phone service, the message will have stated your transaction has been processed.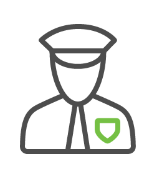 If you received a ticket in error despite having a valid PayByPhone parking session, you will need to appeal the charge, following the process outlined on the ticket.
Note: PayByPhone cannot handle Penalty Charge Notice (PCN) appeals on behalf of customers. We can confirm that payment was successful and investigate any anomalies, but you must reach out to the parking provider to contest the penalty.

To dispute a parking ticket with a parking operator in North America, please click here for contact details.