The PayByPhone mobile web can be launched from your device's browser. Learn more about Mobile Web Functionality below.
| | |
| --- | --- |
| Country: | |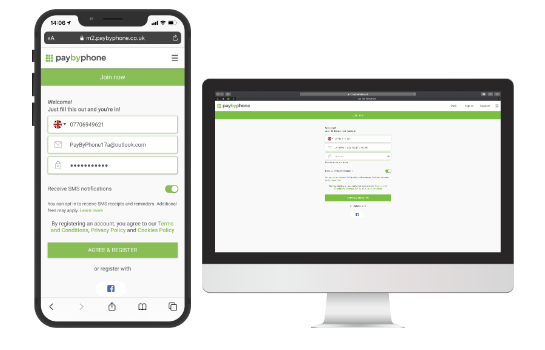 Features

Registration
m2.paybyphone.com (for North America)

m2.paybyphone.co.uk (for the United Kingdom)

Click on Register
👉 Review the privacy policy
.
Click through 'Cookies Policy & Partners' to learn about PayByPhone.

Accept All or Reject All to proceed.
👉 Input mandatory Account Information.
Input your phone number, and email address, and choose a password.

Click 'Agree & Register'.

Click 'I'm not a robot'.

Follow the ReCAPTCHA instructions to identify the requested image and then click Verify.
👉

Review the Notification Options:
There are three options to choose from:
Click through 'Cookies Policy & Partners' to learn about PayByPhone.

Accept All
📋 NOTE: We know that you are busy, so after you finish adding these mandatory details, each of the subsequent steps is optional and can be completed when you are ready to use the app.
👉

To continue and

purchase

parking
Click on Park

I

nput

the

location code
Click

Add a new vehicle.

Input the license plate/registration, State/Province, Vehicle

Type,

and any description

you would

like to add.

Click the camera icon to add a photo of your vehicle (not mandatory).

Click

Add Vehicle

.
👉 Enter your duration in minutes, hours, or days (time units vary by parking operator):
Note any time restraints on the space, then click CONTINUE.

If you are parking in Canada, you also have the

option

of using the

Park Until

feature.
The accepted card types available at the location will be displayed.

Click Add payment method

Add

C

ard

D

etails

Click Add & Agree
👉 Review the transaction Details
At any time, you can tap the location, vehicle, or cost information to jump back to edit those selections directly.

Then, confirm your parking sessions.
👉 Wait for the Payment Confirmed Page to appear!
If the app is taking

a while

to confirm, please refresh the page before

submitting

another payment to avoid duplicate sessions (extensions)

Your account can be used on all our platforms! We offer IVR (dial in), iOS,

Android,

and Web access at home or on the go!
📋 NOTE: Subsequent parking sessions will remember these details, you can edit/add additional plates or payment details as needed.
| | | | | | |
| --- | --- | --- | --- | --- | --- |
| Lauch PayByPHone.com. | Click Register. | Review Policies. | Add Phone number, email & Password. | Validate through ReCaptcha. | Choose Notification Options. |

| | | | |
| --- | --- | --- | --- |
| Input Location code | Click inside the Vehicle Box. | Enter Vehicle information. | Choose a duration and Time Unit. |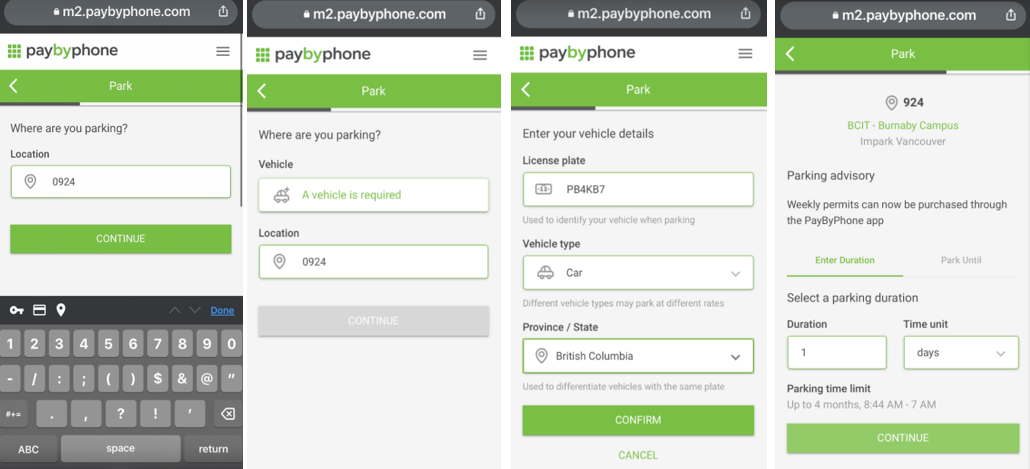 | | | | |
| --- | --- | --- | --- |
| Add a payment method. | Review and confirm the transaction details. | Wait for the confirmation message to appear. | Guest account users have an additional page prompting them to Convert to a registered account. |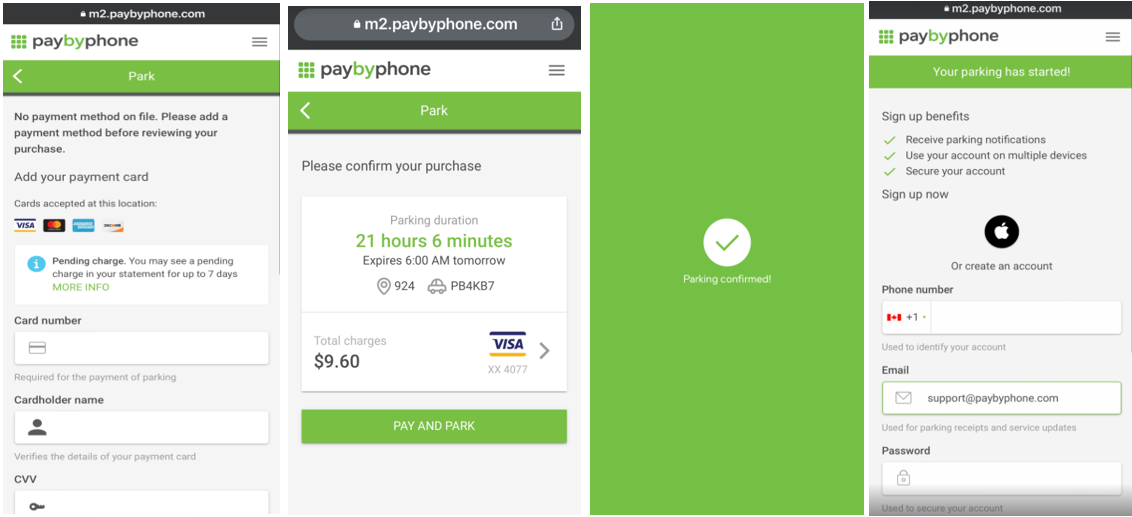 New Parking Sessions (once

previous

steps are complete)
Parking with a registered account
👉 All of your account information will be saved. To

purchase

parking:
Input

the location code

(Map Features are

only

available via iOS/Android App)

Select the Existing Plate or Update to

a new one.

Input Duration (Time increments vary by operator and location

: minute

/day/hour/day/week/month)

.

Pay using existing payment

details or

update to a new tender.

Review Session details & Confirm.

Wait for the final confirmation prompt

indicating

your payment was successful.
Parking with an Unregistered (Guest) account
As a Guest user, you may still park using PayByPhone but no official account will be created for you. You'll still enjoy the ease and convenience of using PayByPhone to pay for parking but limitations such as the availability of historical transactions/receipts, notifications and account settings will not be made available to you until you register a full account. We recommend registering for a full account.
The parking flow for Guest accounts and registered accounts is similar. The main difference is that you do not need a phone number. When you have completed your parking session, you will be prompted to covert the guest account into a registered account
📋 NOTE: Guest users will not be able to access:
You can add a vehicle from the duration screen if the vehicle is

required

for that parking location.

You can switch between different vehicles from the duration screen.

You are unable to edit or remove vehicles from their account.
Add a payment method or access your list of payment cards from the parking flow.

Unable to edit, update or remove payment cards.
Guest Users cannot change their notification preferences for SMS reminders, SMS receipts (UK), and Email receipts.

If you are running late, there is no need to worry about getting a ticket because you can extend your parking from anywhere! It only takes a couple of clicks and a matter of seconds to extend a parking session from the main page.
Current parking will be

displayed. Click

Extend.
Click the Extend Parking button.

Review the summary of your parking session including the cost.
👉Select your payment type.
👉Authenticate via your financial institution.
If paying by Apple Pay or Google Pay you will need to authenticate via Touch or Face ID.

Some financial institutions implement a secondary authentication and this process will vary based on the bank.

UK Customers: PayByPhone adheres to Strong Customer Authentication (SCA) to help reduce fraud and make payments more secure. As part of the SCA process, your bank

will

require secondary authentication.
👉Wait for the confirmation screen that your session has started!
You will be returned to the home screen where your active session will be visible.
| | | | | |
| --- | --- | --- | --- | --- |
| 1. Review the current session, and press Extend. | 2. Add duration and click Continue. | 3. Review transaction details including the updated time, Click Extend Parking. | 4 Click Park. | 5. Wait for the system to confirm the parking extension. |


Menu Options
Registered account holders can edit profile information and access PayByPhone's policies. Scroll below to learn about how you can do the following:
| | |
| --- | --- |
| Country: | |
For the UK, menu contains some additional options.
👉

Parking History:
Click on the Parking History tab at the top of the page.
👉

Vehicle Management:
Click on Account tab at the top of the page.
Select My Vehicles.
👉 Payment Options:
Click on Account tab at the top of the page.
Select Payment Options.
👉

Set your Parking country:
Click on the drop-down menu at the top right of the page.

Choose the country.
👉 Notification & Privacy:
Click on Account tab at the top of the page.
Select Notifications & Privacy.
👉

Edit your password:
Click on Account tab at the top of the page.
Select S

ecurity settings.
👉

Help & Support:
You can contact our Customer Support thanks to our virtual assistant Parker : Chat with Parker ! It answers most of the questions instantly, and suggests contacting our Customer Suuport by phone or email.
👉

Submit Feedback:
Click on the drop-down menu at the top right of the page.

Select Send Feeback.
👉

About PayByPhone: Terms & Conditions & Privacy Policy:
Click on the drop-down menu at the top right of the page.

Slect About PayByPhone.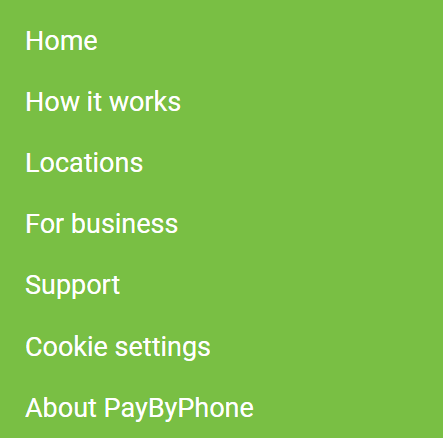 👉

Sign Out:
Click on Sign Out tab at the top of the page.
| | |
| --- | --- |
| Country: | |
👉

Permits:
In order to register for a Visitor Permit, please follow the instructions below :
Select Permits in t

he drop-down menu at the top right of the page.

Select Apply for a Permit.
Select London Borough of Ealing as the Council.
Then from the dropdown below select the type of permit you are applying for.
Next enter your address followed by your full name and date of birth.
Your zone will then be automatically populated.
Click Submit.
A verification will then take place to confirm your details and eligibility to purchase visitor permits in this zone.
Once you have been verified, you will receive an email confirming that you can now purchase visitor permits.
Your eligible zone will now show in the Permit Section of your account.
👉 Premier Bays
In order to purchase/renew a Premier Bay at any NCP Greater Anglia station you will first need a PayByPhone account.
In order to create an active Premier Bay session please then:
Ensure you have your payment card and vehicles registered on your PayByPhone account.
Complete the form here and we'll quickly get back to you to complete payment.
👉

Autopayments
Registering for Auto Payments with PayByPhone is simple and can be on our website :
Click on Autopayments in t

he drop-down menu at the top right of the page.